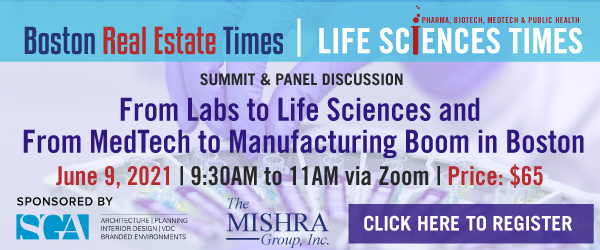 Hudson, MA– Calare Properties, a private, Massachusetts-based real estate investment firm and operator, in partnership with Hackman Capital Partner, a privately-held asset based investment firm, announced that it has leased an additional 63,000 square-feet (sf) of industrial space at 100 Clinton Street in Framingham, MA, to Jack's Abby Craft Lagers.
100 Clinton Street is home to Jack's Abby Craft Lagers which houses their growing brewery, and Jack's Abby Beer Hall, a 175-seat, 5,000 SF restaurant featuring 24 of Jack's Abby beers on tap and a menu centered around their wood-fired oven. Since leasing their first 67,000 sf at 100 Clinton Street in 2014, the brewery has created a "cult following" drawing customers from over an hour away to enjoy their specialty beer and pizza. Notably, Jack's Abby recently won Boston Magazine's coveted 'Best of Boston' award.
Calare and Hackman Capital were represented by CBRE/New England's team of Bob Gibson, Executive Vice President/Partner and Steve Clancy, Executive Vice President/Partner.
"It's been impressive to see Jack's Abby's strong following and significant growth over the past few years. We've enjoyed working with the Hendler brothers to support their business at 100 Clinton Street." commented Bryan Blake, President and Executive Director at Calare. "I think Jack's Abby is a great example of the benefit of working with local ownership like Calare. We've been able to structure their leases to support the speed of their growth and negotiate additional parking on their behalf; subsequently helping Framingham build this new 'hip' feel in the center of town."
Gibson added "It's not often you see an ownership group like Calare work with such an entrepreneurial spirit as we saw with Jack's Abby. CBRE and Calare worked together to negotiate terms and benefits that have truly allowed the Jack's Abby team to opportunistically grow very quickly and easily."
As part of the Jack's Abby continued expansion, Calare will provide $1.5 million in upgrades to the current warehouse and office space, including a new roof, elevator, windows, façade work and lighting.
"The Town of Framingham is proud of Jack's Abby Brewing Company, which has grown from a startup to become one of the region's most respected microbreweries," said Arthur Robert, Director of the Town of Framingham's Community and Economic Development Division.
"Jack's Abby is an excellent example of how Framingham nurtures and works with small businesses, and we're pleased to see their continued growth here. The company's expansion is another expression of private-sector confidence in the future of Framingham's downtown."