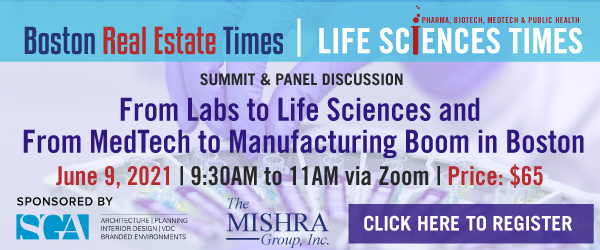 BOSTON– The Greater Boston Real Estate Board (GBREB) and college financial aid services advisor uAspire raised nearly $300,000 for academically gifted but economically disadvantaged students at the third Annual GBREB Foundation Scholarship Fund Leadership Breakfast held at the Revere Hotel Boston Common on Friday, June 2nd.
The Foundation also honored Ronald Druker, president of The Druker Company with their inaugural Humanitarian Award for devotion to education, the arts, and philanthropy in Boston; and John Barros, Chief of Economic Development for the City of Boston, with uAspire's First One Award, given annually to business, education, healthcare, government and nonprofit leaders who were the first generation of their families to graduate from college. The event was attended by real estate professionals, students and their families.
The masters of ceremonies for the event were a pair of scholarship recipients, one from last year's Foundation breakfast, Veneza Monteiro, who just completed her first year at Emmanuel College, and Nicholas Correia, a senior at Brimmer & May, who will enter Brown University in the fall.
GBREB and uAspire established the Foundation Scholarship in 2012, and in the first six years of the alliance have distributed over $500,000 in "last dollar" scholarships – intended to fill the gap between students' financial aid and the non-tuition costs of college, such as room and board, computers, and books and supplies – with the GBREB Foundation providing the funding and uAspire administering the scholarships. The scholarships are awarded based on academic achievement, leadership experience, extracurricular involvement, and demonstrated financial need, range from $1,000 to $5,000 per year per student, and are guaranteed for two years.
A number of students were selected to receive scholarships at this year's event, and in addition to the scholarships, a minimum of 15 recipients will also participate in the Foundation's "College to Career" initiative, a paid, 6-8 week program that connects the students with firms involved in the various facets of the commercial real estate industry.
The internship program is designed to cultivate a more diverse generation of real estate professionals in Greater Boston by exposing low-income and minority students to both the commercial and residential real estate industry. The pilot for the program launched in 2015 with just three students, expanded to 10 last year with the help of the Boston Private Industry Council (PIC).
This year, AvalonBay Communities, Boston's Luxury Properties, CBRE/New England, Colliers International, Equity Office, Equity Residential, Harbor Towers, Lincoln Properties, Oxford Properties, Peabody Properties, Related Beal, Red Gate, The Schochet Companies, Trinity Management, WinnCompanies, and WS Development are among the firms that have agreed so far to provide internships for the summer of 2017, which begin in July.
"The Greater Boston Real Estate Board Foundation is making a real difference in the lives of these students," said Greg Vasil, CEO of GBREB. "But without the generous support of our sponsors and the real estate community, this would not be possible."
The First One Award is given annually to community leaders who were the first generation of their families to graduate from college, and who subsequently made a meaningful impact on the lives of others. The honorees represent the power of higher education to propel individuals and families out of poverty and toward lives of opportunity and service. Created in 2011, winners have included former Governor Deval Patrick, the late Boston Mayor Thomas Menino, Kevin Phelan, Co-Chair of Colliers International Boston, former Massachusetts U.S. Senator Mo Cowan, and Goodwin Procter Chairman Emeritus Regina M. Pisa.
The Greater Boston Real Estate Board, founded in 1889, is the oldest real estate organization in America, representing over 9,000 members in the residential and commercial disciplines of the industry. The Board's core mission is to provide education, advocacy, and philanthropy to the Greater Boston community. This scholarship, offered through the Greater Boston Real Estate Board Foundation, continues that commitment to education, and extends it to women and men who are pursuing their dream of receiving a college education.
uAspire is Massachusetts' leading provider of financial aid advising and scholarships. Since 1985, uAspire has provided financial aid advising and scholarships to more than 60,000 students and families, helping them realize their higher education goals and giving them a better foundation for a successful and productive future. uAspire's services are provided free of charge and serve students at its three sites in Massachusetts – Boston, Springfield, and Lawrence – as well as at its newest site in Miami, FL.
The Boston Private Industry Council (PIC) is a nonprofit organization that strengthens Boston's communities and its workforce by connecting youth and adults with education and employment opportunities that align with the needs of area employers. Our work is grounded in the belief that meaningful employment changes lives, lifts people out of poverty, and strengthens the local economy.