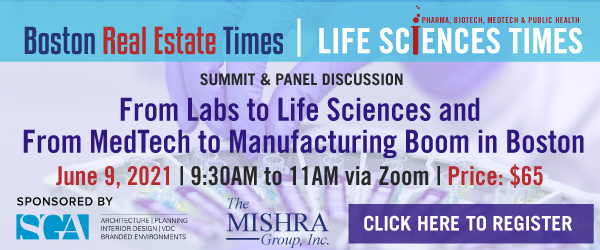 Boston – Boston's hotel industry has begun to rebound after a year of challenges due to the global pandemic.
According to the February 2021 edition of Hotel Horizons®, CBRE Hotels Research indicates the fast pace of COVID-19 vaccinations and additional stimulus funds have strengthened the foundation for the recovery of the U.S. lodging industry as a whole.
For Boston, the CBRE report forecasts an average occupancy level of 46% during the first half of 2021 – up from the 29.7% recorded in 2020. Moreover, CBRE is predicting a 70.8% occupancy rate by 2022 and a return to a more normal 75% by 2025. The Average Daily Rate is forecast to increase by 12.5% in 2021 and 20.1% in 2022. Revenue per available room (RevPAR) is also forecast to increase by 74.3% in 2021 and 84.7% in 2022.
"Boston is now starting to experience an economic rebound as shopping, entertainment and other businesses are opening their doors once again after a year of multiple closures and stay-at-home orders," said CBRE's Mark VanStekelenburg. "With the accelerated pace of vaccinations, we will continue to see business rebound and the hotel industry come back to life in the second half of 2021 and beyond."
Bram Gallagher Ph.D., Senior Hotel Economist with CBRE Hotels Research, added "Since we developed our February 2021 forecast, the pace of vaccination distribution has topped two million a day, more than we originally foresaw. In addition, the recent $1.9 trillion COVID package should boost lodging demand, while providing hotel owners with much needed financial assistance. The combination of these factors solidifies our improved outlook for the second half of 2021 and beyond."
Performance Varies
CBRE advises hotel owners and operators to evaluate performance by location, property type and chain scale, and 2021 is no exception.
"Upper-priced properties will see faster growth in 2021 fueled by easier comparisons and an uptick in business and leisure travel," said Rachael Rothman, Head of Hotels Research & Data Analytics for CBRE. "However, occupancy levels still will trail those of the mid- and lower-tier properties."
While RevPAR increases will vary widely by market, hotels in Boston are expected to enjoy RevPAR gains of more than 74% during 2021. Demand will also expand by more than 61% – a tremendous change from the 59.6% decrease in demand recorded in 2020.
Growth Beyond 2021
CBRE's February 2021 forecast calls for a return to 2019 RevPAR levels in 2024. In general, properties that operate in the lower-priced chain-scale segments will recover sooner than the higher-priced hotels.
One factor supporting enhanced lodging performance in the second half of this year and beyond is a reduction in the traditional lodging supply. The combination of permanent closures and fewer projects starting construction has resulted in a reduction of CBRE's hotel supply forecast for 2021 to a gain of just 0.9% for the year. CBRE estimates supply growth will remain below 1% through 2023.