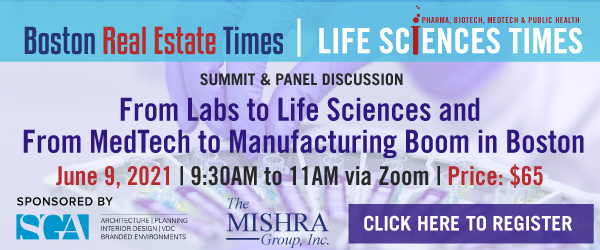 BOSTON –Eck MacNeely Architects, a Boston-based architecture firm specializing in private campus buildings and custom homes, has moved to a new office and has appointed new principals.
The firm's new space at 580 Harrison Ave in Boston will maximize access to digital technology and improve support for future client needs. The new office will provide the architects with increased flexibility for social distancing as well as ample space to expand the team to meet the demands of upcoming 2021 projects, including plans to increase staff by 15 to 30 percent.
Eck MacNeely Architects has been a longtime tenant of the South End of Boston, which provides clients with a central location to meet with design professionals, as well as an office with convenient transportation access for employees.
The company is moving to a recently renovated space in the same former piano factory complex it's shared for the past 20 years. The updated space provides the firm with upgraded internet, connectivity and communications utilities to work with clients virtually through online designs. The Boston location also keeps Eck MacNeely close to the new talent emerging from Boston Architectural College, MIT, Harvard University, Northeastern, Wentworth and other major design schools.
Expansion plans come on the heels of Eck MacNeely's promotion of Meredith Chamberlin, AIA, LEED AP and Dan Eldredge, R.A., LEED AP to Principals of the firm. Chamberlin has been a member of the firm for 19 years, and Eldredge joined the team in 2009. Both have overseen a wide variety of the firm's residential work as well as campus work, including projects at Thayer Academy, Shady Hill School, Dedham Country Day, Fay School and Lasell College.
"Our architectural roots are in single-family homes, and Meredith and Dan bring great knowledge to many of our residential projects," said Paul MacNeely, principal for Eck MacNeely Architects. "When I look at the future growth of the firm, we have an opportunity to assist schools to reassess and build infrastructure to address the current health situation as well as quickly address future crises, and Meredith and Dan's expertise is tailored to align with those needs, as well."
"The pandemic has caused educators to consider its effects on teaching as well as classroom layouts and common areas, and today's changes will help reduce lags in response for future crises," said Chamberlin. "We have the opportunity to counsel clients to become entities that can plan ahead for similar situations that may happen again in order to build flexibility and resiliency into their facilities."
"Children may be continuing to do a lot of their schoolwork from home, and schools and homeowners alike are reassessing how work gets done," said Eldredge. "Architects that can advise on multiple fronts of these challenges are uniquely positioned to help these clients incorporate new designs into new and existing structures."