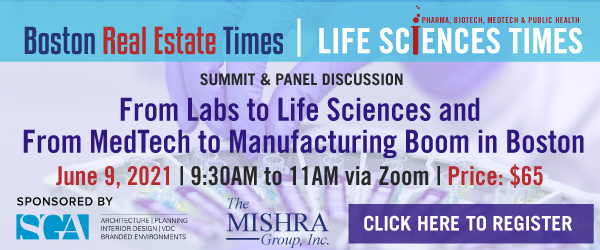 By Mike Hoban
WALTHAM, MA–There is a sea change underway in the world of multifamily development, as increasing land and construction costs and a heightened focus on amenities are impacting the way that developers are building and repositioning properties.
Earlier this month, the Boston Real Estate Times assembled a panel of prominent developers for the Boston Multifamily Growth & Development Summit to provide insight into how they are responding to the changing landscape. Held at the Westin Hotel in Waltham, MA the panel was moderated by Real Estate Times publisher, Upendra Mishra, and included Paul Ognibene, CEO of Urban Spaces, Shannon Earley, regional manager of Princeton Properties, and Richard Robinson, VP of acquisitions at John M. Corcoran & Company.
The morning began with a discussion of the unique challenges of developing in the suburbs versus urban locations.  "We're finding that suburban projects are difficult to pencil out because construction costs are similar to urban projects, but the rents are very different," said Ognibene. To offset the lower rents in suburban locations, Urban Spaces sites their suburban projects in center-of-town locations near transportation nodes – specifically the commuter rail – as they did with 30 Haven, a 53-unit mixed use development in Reading, and 65 Washington, a 61-unit condominium complex set to break ground in Salem. With driving commute times to and from Boston escalating, the demand for transit-oriented multifamily product in the suburbs provides developers with a meaningful bump in pricing to help make the numbers work.
Earley added that the type of product – in terms of size and quality of the units – that will work in one location won't necessarily work in another. "You can [build] a lot smaller units in the urban market because of the price point, but when you start talking about the details and finishes inside the apartment communities and what you can demand for rents in the urban markets versus what you can get in the suburbs for units with those same kind of finishes, it's [vastly different]."
In addition to pricing differences between the city and suburbs, there has been a profound shift in how apartment communities are designed. There is an increased focus on building community within multifamily developments, particularly with urban projects, and the decrease in unit size allows for a corresponding increase in amenity space/common areas. "And that's what people are looking for today," said Robinson. "Rather than a 1,200 square foot unit – which was the average in 60's, 70's and early 80's –we're now seeing 400 square foot units, because people, and younger people in particular, don't want to spend time in their apartments, they have fewer possessions, and they want community space to communicate and be with each other."
While the viability of micro units (defined as under 450 square feet) is still being debated in the development community, the concept is far from new. Robinson said that 1440 Beacon in Brookline, which he acquired for Nordblom (where he was a partner until recently), is a prime example of smaller units succeeding in an urban market. Built in 1950 and comprised of 136 studio and one-bedroom apartments, the studios at 1440 Beacon are just 395 square feet and one-bedrooms are 425 square feet. "And that property rented extremely well. So we think we're cutting new territory but maybe we're just swinging back to trends of the past," asserted Robinson.
In an effort to test the possibilities of the micro unit market, Urban Spaces and partner Michaels Development built the first all micro-unit building in Boston (and the largest all micro-unit building in the United States at the time) in 2015. Abutting the Boston University campus, 1047 Commonwealth Avenue consists of 180 units averaging 350 square feet. BU master leased the entire building for student housing before it ever hit the market. Ognibene remains optimistic about the product type, and noted, "There's a feeling that micro units may have become passé, but maybe it has more to do with where they're situated," he said. "In urban markets, they certainly seem to make a lot of sense for the developer and the consumer, but not so much in the suburban markets where people typically want more space."
Princeton properties is having great success leasing smaller unit with The Graphic, a 171-unit complex in Charlestown that features a mix of studio, one, two, and three bedroom units – including a number of 362 square foot micro units. "It's fascinating how the studios and one bedrooms are flying off the shelves. But the question is, if we were to take that same product and move it to a suburban market, would we be seeing the same kind of results?" asked Earley.
The reduction in the size of the units in new developments not only allows for more community space, but for an unprecedented level of building amenities, one of the keys to competing for tenants in the competitive multifamily space. While many apartment communities are able to compete for tenants with just a fitness center and an attractive lobby, urban renters are now demanding a slew of amenities. The Graphic for instance, features a roof deck with a skyline view and BBQ grills, a music room with a karaoke machine, a games area, a test kitchen, and a pet spa, as well as a fitness center and yoga room. There also is resident programming, such as wine tastings and paint nights on a monthly basis. "The number of amenities that we put into similar-sized properties is wildly different than it was six or seven years ago," said Earley. "So you can see the development over time of what is expected in terms of amenities for different projects."
While there are significant differences between developing in the suburban and urban markets, panelists agreed that locating and permitting properties in downtown transit-friendly areas is challenging in either location. Ognibene said that finding developable locations involves "a lot of flexibility and creativity on the deal side." Urban Spaces has been able to creatively source those properties by targeting non-institutional family-held properties. "We've found that with the sites that we're interested in, the owners are often reluctant to sell," said Ognibene. "So we try to do creative things, like ground leases. We've done nine [ground leases], and it's a model that makes sellers a little more comfortable because they still retain some level of control and can see that we've done this successfully with others. So we've found that creativity and flexibility are the keys to getting some of these properties."