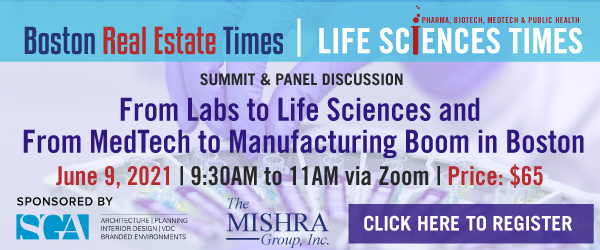 BOSTON–Boston Real Estate Times, an integrated real estate news platform that seamlessly integrates digital, print, video and all social media channels on one platform, today announced its 2021 media kit and tools for real estate branding, marketing, business development and advertising in New England.
Over 13,500 commercial real estate professionals and corporate real estate executives rely on Boston Real Estate Times for 24/7 breaking real estate news coverage.
Boston Real Estate Times subscribers by sector:
Commercial Real Estate: 85%; Residential: 10%; and Retail: 5%.
Subscribers by profession:
Developers, owners and investors: 22%; Commercial brokers and consultants: 28%; Architects and interior designers: 20%; General and Sub Contractors: 14%; Corporate Real Estate Executives: 8%; Lenders and Financial Brokers: 3%; Miscellaneous: 5%.
Digital visitors to Boston Real Estate Times:
Through Daily Digital Edition: 57.5%
Googles and other search engines: 23%
Linkedin: 7.9%
Facebook: 4.3%
Twitter: 2.65%
Apps: 2.6%
Misc.: 2.6%.
How to maximize Boston Real Estate Times for marketing and business development with just one click?
Linkedin
If you liked an article and wanted to share with your colleagues on Linkedin, please click on the Linkedin icon, and yes with just one click you have shared the article on your Linkedin page.
Tweet
Tweeting is a just one click away on Boston Real Estate Times. Under the headline of any article, you will see social media icons. Take you cursor to Tweeter and click. You have tweeted the article with just one click.
Facebook
If you want to share an article on Facebook, take your cursor on Facebook icon and click, and you have shared an article on Facebook.
Email Forward
You liked an article on Boston Real Estate Times and wanted to email to a friend or colleague, go towards the end of the article and you will see an email icon. Click on the icon, an email box will appear, type the email you want to send to, and click on send email. Your email will be delivered immediately to your colleague.
Video Channel
Earlier this year, we launched Boston Real Estate Video Channel. You or your company can be featured on this and it's included in our digital daily edition. You can also share it on your website and your social media channels
Monthly Summits
Boston Real Estate Times hosts monthly breakfast summit each month on different topics.
Print Edition
We have just launched our monthly print edition, which focuses more on lifestyle of real estate executives, special reports and features.
Other important tips:
If you want to be published in Boston Real Estate Times, please email all your press and news releases to editorial@MishraGroup.com. Releases should be accompanied with good quality pictures and art work. Our website is designed to be visually impactful, and pictures, especially in the commercial real industry, are important. In addition to announcements of new projects and their completions, new deals and promotions of executives and hires of new executives, we are also looking forward to submissions of articles on timely topics.
Daily Digital Edition: Our subscribers receive a daily digest of key local real estate news in their email box. They can read the headline, view the picture, read the gist of the article or click on the link to read the whole articles. It is all free.
Search Engine Optimization (SEO): Our site is well optimized for searches on the Internet. For example, if Boston Real Estate Times has published an article and if it has your or your company's name in it, it is most likely that the article will show up on Google News search or other search engines if you type your company's name.
Marketing and Branding: Our social media tools can be used to as a tool for content marketing with a simple click. We also offer selected advertising banners on the front page of website. These banners are power tools and linked directly to your website, to bring your potential customers directly to your page.
We hope you continue to enjoy Boston Real Estate Times and share with your friends and colleagues.