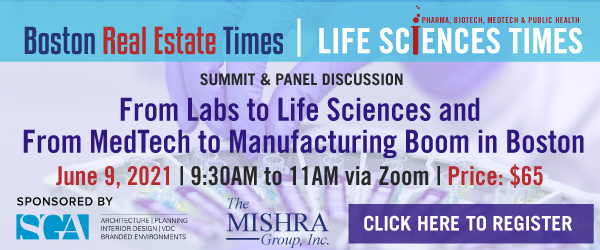 BOSTON—Boston Real Estate Times, one of the largest commercial real estate publications serving New England, announced that it will launch the Life Sciences Times this month to cover Pharma, Biotech, MedTech and Public Health sectors nationwide with a special focus on New England.
"A majority of our commercial real estate readers are currently watching the Life Sciences industry, as it is leading the economic growth in the country today," said Upendra Mishra, publisher of Boston Real Estate Times. "We expect this growth to continue in upcoming years, and we want to keep our readers up-to-date on what is happening in the Pharma, Biotech, MedTech and Public Health sectors, and how it is impacting the commercial real estate industry."
The life sciences sector has reached new highs this year in R&D employment and venture-capital funding. This has resulted in a surge in demand for life sciences real estate in markets from longstanding centers like Boston and the San Francisco Bay Area, to emerging hubs such as Pittsburgh, according to a new report from CBRE.
CBRE identified the top U.S. life sciences markets by assessing each market's life-sciences job base, the size of its lab-space inventory, and the amount of funding it attracts from venture capital firms and the National Institutes of Health (NIH).
Largest U.S. Life Sciences Markets
1.) Boston-Cambridge
2.) San Francisco Bay Area
3.) San Diego
4.) Washington, D.C.-Baltimore
5.) Raleigh-Durham
6.) New Jersey
7.) Philadelphia
8.) New York City
9.) Seattle
10.)Los Angeles.
The Life Sciences Times will be published digitally, and subscribers will receive a timely newsletter with main stories of the week, said Mr. Mishra. The website, however, will be updated 24/7, and will be formally launched this month.
The Life Sciences Times is currently offering an introductory free subscription until Nov. 15, 2020, after which the annual subscription cost will be $95 per year.
To subscribe to the Life Sciences Times newsletter for free, please click here or on the link below.
https://confirmsubscription.com/h/r/D1BD153E9847C7022540EF23F30FEDED