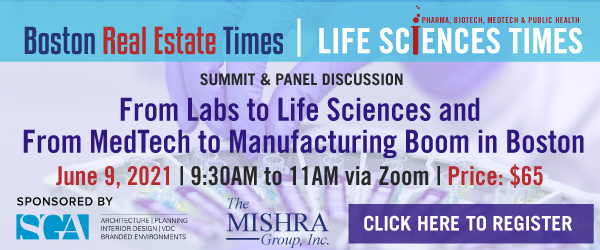 BOSTON – CBRE released its Boston Office/Lab MarketView for Q1 2021, showing that the Boston life sciences market continues to be a bright spot in the current landscape.
As momentum behind office to lab conversions strengthened, lab availability downtown increased for the fourth quarter in a row to 22.3%, while vacancy declined to an all-time low, sitting at 1.1%, and sublease availability remained negligible at 0.6%. In the Seaport, where inventory is close to four million sq. ft., vacancy remains the same 1.1% rate of the overall Boston market.
"The Boston life sciences market saw touring activity and leasing commitments continue at a strong pace during the first quarter," said CBRE Vice Chairman Jon Varholak. "Current demand for lab space in Boston remains strong with 26 companies in the market for nearly 1.3 million sq. ft. of lab space downtown."
"Venture capital funding for Massachusetts-based life science companies is coming off a record year with $6.2 billion raised in 2020, which is driving demand with a number of early-stage companies in the market for 10,000 to 25,000 sq. ft.," added CBRE Executive Vice President Eric Smith. "Demand for larger suites is healthy as well, with more established biotechs and large pharma navigating the market to expand their local presence."
Although Q1 2021 marked the fifth consecutive quarter of negative growth in the Boston office market with 72,000 sq. ft. of negative absorption, the first quarter saw the least amount of space added to the market since the start of the pandemic, along with modest signs of transaction activity. Availability and vacancy decreased 10 basis points (bps) to 18.5% and 11.9%, respectively.
"As developers continue to weather the challenging office market, many owners are considering conversions to life science," said Andy Hoar, President of CBRE's New England Division. "At present, about 500,000 sq. ft. is under construction for conversion and an additional 840,000 sq. ft. is planned for conversion within the next year. The potential pipeline for future conversions is robust and is likely to have a marked impact on the office market, reducing the number of available options, particularly in submarkets like the Seaport."
Central Business District: While the CBD saw 25 new sublease spaces totaling 214,000 sq. ft. become available in the first quarter, the sublease availability rate declined by 40 bps to 4.3% quarter-over-quarter. The CBD posted almost 385,000 sq. ft. of negative absorption in Q1, the strongest since Q1 2020. Class A rents declined slightly by $0.34 per sq. ft. to $76.64 per sq. ft.
Back Bay: Asking rents in the Back Bay increased slightly in the first quarter to $69.09 per sq. ft., while Class A rents continued a year-long decrease to $71.01 per sq. ft., a 2.5% drop over the last two quarters. Vacancy rose 90 bps to 8.1%, while sublease availability declined by 30 bps to 3.7%.
Seaport: The Seaport recorded 411,000 sq. ft. of positive absorption in the first quarter with availability and vacancy both decreasing to 13.9% and 10.6%, respectively.