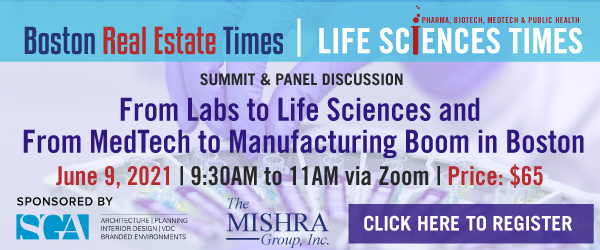 BOSTON—Integra Realty Resources (IRR), one of North America's largest independent commercial real estate valuation and consulting firms, announced the promotion of Jeremiah "Jerry" J. Manfra, MAI to Senior Managing Director of its Boston office.
IRR also welcomes back Elisha F. Lee, Jr., MAI, who is rejoining the Boston team after completing one year with Newmark Knight Frank Valuation & Advisory.
Manfra, a twenty-plus year industry veteran and former U.S. Navy SEAL, will be responsible for generating new business opportunities and overseeing local operations. He will work closely with Emmet T. Logue, MAI, CRE, Executive Director of Integra-Boston to ensure delivery of world-class valuation and counseling services that IRR clients rely on.
"With Jerry at the helm, we are confident we have the right leadership team in place to grow our Boston presence and ensure best-in-class service to our clients," says Anthony M. Graziano, MAI, CRE, Chairman of Integra Realty Resources. "He is a natural leader who brings the ideal combination of practical market knowledge and business savvy to his new role. We are also fortunate to welcome Elisha back to our Boston team. After spending a year away with a competitor, he is pleased to be back in our collaborative working environment with our proprietary technology platform at his fingertips."
Manfra has been a professional appraiser since 1998. Prior to joining Integra-Boston, he owned and operated his own real estate appraisal company. His appraisal experience includes multi-family; neighborhood and community retail; industrial; mixed-use; residential subdivisions; senior housing; residential; and commercial land throughout New England.
Manfra has qualified as an expert witness in the Commonwealth of Massachusetts Middlesex Superior Court, as well as the State of New Hampshire Strafford County Superior Court. Other experience includes Adjunct Instructor of Mathematics, U.S. Navy SEAL, and high-technology support/project management. Manfra is a graduate of Norwich University where he earned a M.S. in Business Administration and a B.S. in Electrical Engineering. He is a licensed Certified General Real Estate Appraiser in Massachusetts, New Hampshire, Maine and Vermont.
Lee has been actively engaged in real estate valuation and consulting since 1985. Lee currently focuses on urban and suburban developments. He has successfully completed valuations on various proposed, partially completed, renovated and existing structures including, but not limited to, shopping centers; apartment complexes; single- and multi-tenanted industrial buildings; office buildings; residential subdivisions; mixed-use facilities; and vacant land. His clients have included law firms, lenders, and private and public agencies.
Lee earned a Master of Business Administration degree from Babson College and a Bachelor of Arts degree in history from Harvard University. He is a licensed Certified General Real Estate appraiser in Massachusetts.