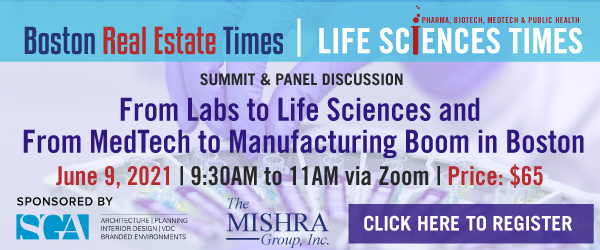 BOSTON—Boston Real Estate Times announced that it has named SGA as the Architectural Firm of the Year 2020. SGA will be honored during the Boston Real Estate Times' annual awards show on June 18, 2020 at Westin Hotel in Waltham, MA.
Based in Boston and New York, SGA is an award-winning national architecture, interior design, planning, branded environments practice and virtual design and construction firm. Winner of the Fast Company "Most Innovative Companies" award for architecture, SGA embodies tech-forward design that redefines how projects are visualized and delivered.
"We're very excited to honor SGA as the Architectural Firm of the Year for its unique design contribution to the industry as well as its innovative ideas," said Upendra Mishra, publisher of Boston Real Estate Times.
SGA designs life sciences, higher education, interior design and complex and challenging real estate projects that require imagination, creativity and fresh thinking. The strength of their experienced team is speed to the market, problem solving, fast-track public approvals, and a seamless integration of design, development and construction process. Since its founding in 1991, SGA has delivered about 450 million square feet of completed space.
Al Spagnolo is Co-Founder and President of this respected architectural practice and he provides leadership and guides decisions on the firm's significant urban, commercial, life science and higher education commissions.
To buy a ticket for the award ceremony, please click here.
For a complete list of the 2020 Award Winners, please click here or on the link below.